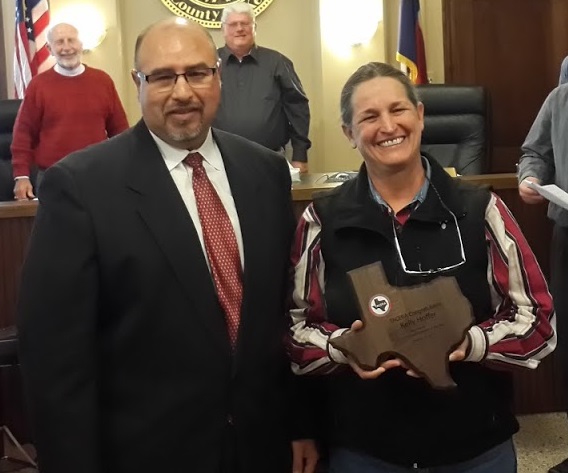 Presentation of the 2015 "County Employee of the Year Award" to Kelly Hoffer, Assistant Road and Bridge Administrator, by the Texas Association of County Engineers and Road Administrators.




The Kerr County Road & Bridge Department was established in 1986 by a vote of the citizens.

Even though the individual commissioner no longer oversees the day-to-day work of the road crew or the finances, the Commissioners Court as a whole sets policy, hires the Administrator, and decides how much of the tax dollar will go for the maintenance of roads and determines which roads will be County maintained.

They name all roads, (private & public), set speed limits, and regulate all aspects of roadways within Kerr County.

Road & Bridge maintains 458 linear miles of roadway and their right-of-ways, numerous bridges, and low water crossings. However, there are many more miles of roads in Kerr County that are maintained by others — City of Ingram, City of Kerrville, Texas Department of Transportation (TXDOT), or privately.

County roads are named and have green signs with white reflective lettering. TXDOT roads are generally known by numbers. Privately maintained roads should have a green sign with white lettering and a red stripe across the top.

All Kerr County roads outside city limits are named by the Commissioners Court and the naming process is coordinated through R&B and 911.

To have a road maintained by Kerr County it must be built to current county specifications, then presented to Commissioners Court for acceptance. Those specifications may be found in the Subdivision Rules & Regulations.