KCHC ARCHIVES AT SCHREINER UNIVERSITY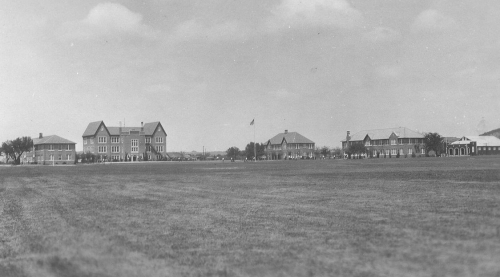 Schreiner Institute, about 1930
The Kerr County Historical Commission and Schreiner University's William Logan Library have recently made their own history by agreeing to work together in housing the Commission's archival documents and making them available to the public. Logan Library also will digitize some of the material, which will be made available through its Lanham Digital Library. This is the first agreement of this kind in Texas and it is hoped it will serve as a model for other such collaborations.

This pioneering collaboration with Schreiner University is the first of its kind in the state. This is a tremendous technological innovation, especially for those seeking information and images of historical Kerr County. No longer packed away in moldering boxes in basements and attics, this significant collection of documents, photos and artifacts will be preserved, protected and accessible to all through the World Wide Web.

Access to the non-digital archives will be by appointment with the Special Collections department during the library's normal hours of operation. Anyone can schedule an appointment to access the archives by calling 830.792.7337, then visit the William B. Logan Library at Schreiner University, 2100 Memorial Blvd., Kerrville.

To download the KCHC Archives Brochure in pdf format, detailing what can be accessed at the Schreiner University Logan Library,
click the link below:
KCHC ARCHIVE BROCHURE
For more information about Schreiner University and Logan Library, go to the University's Web site at http://library.schreiner.edu/specialcollections/archives